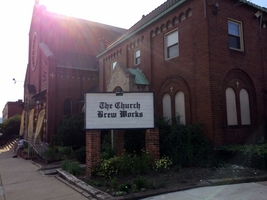 The Church Brew Works
United States,
PA ,
Pittsburgh
On June 1, 1902 the cornerstone of St. John the Baptist Church on Liberty Avenue was laid. On the 6th of August in 1993, the church was put under ...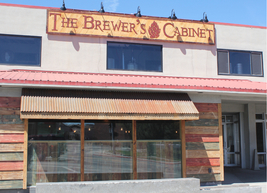 The Brewer's Cabinet
United States,
Nevada,
Reno
The Brewer's Cabinet is a Nano-Brewpub designed with the idea of creating fresh, exciting and unique beers. Since this is a small batch brewery it allows them the flexibility ...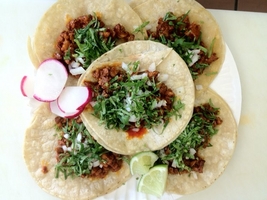 Senor Taco
United States,
WA,
Federal Way
As authentic Mexican as it can come, in the town of Federal Way, WA. Locals favorites are the carne asada, tacos, chicken tortas, and the burritos. This is one ...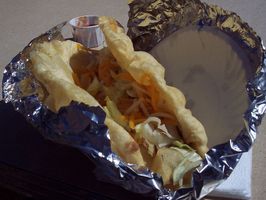 Indian Fry Bread
United States,
New Mexico,
Laguna
There sits a shack in the desert that most people who blink while driving will miss. It isn't until they get a quick glimpse of the brightly colored shack ...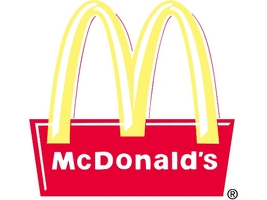 McDonalds Mc 10:35
United States,
California,
San Bernardino
The McDonalds Mc 10:35 is a sandwich that can only be had at exactly 10:35am on weekdays. The other catch is that you must make it yourself. Confused yet? ...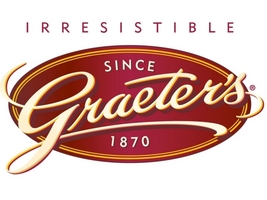 Graeters Ice Cream
United States,
Ohio,
Cincinnati
Founded in 1870 by Louis C. Graeter, Graeter's has perfected the traditional French Pot process, making the world's finest ice cream just two gallons at a time. Also handmade ...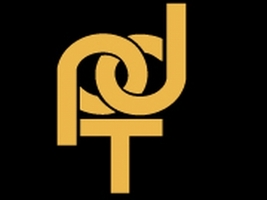 PDT
United States,
New York,
New York
PDT (short for Please Don't Tell) is the hot-dog joint for grown-ups. Actually, it's a hidden cocktail-lounge that is connected by way of Crif Dogs. The hot-dog side is ...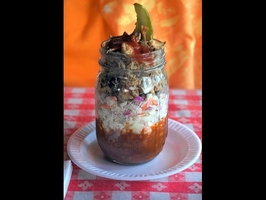 B.B.'s Lawnside BBQ Sundae
United States,
Missouri,
Kansas City
From top to bottom, a unique three-layered sundae should satisfy any BBQ lover's craving. Weighing in at 1 lb filled with 6.5 oz of Hickory smoked pit beans, 5 ...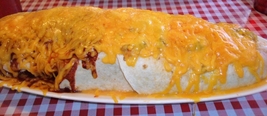 Cecilia's Cafe - 10LB Burrito
United States,
New Mexico,
Albuquerque
Cecilia's Cafe is home to the "Fireman's 10LB Burrito", which is named after the local fireman in Albuquerque, New Mexico. The burrito takes 3 people to wrap and contains ...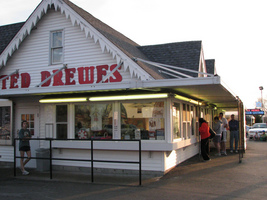 Ted Drewes Frozen Custard
United States,
Missouri,
St. Louis
Ted Drewes Frozen Custard establishment is an institution and a St. Louis icon, a place to mingle, a paradise on those hot summer nights. Ted Drewes custard is made ...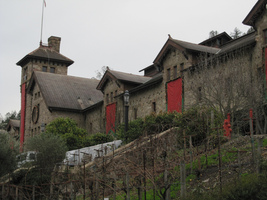 Culinary Institute Of America
United States,
California,
St. Helena
Rising castle-like on the western hills, the CIA at Greystone is one of the Napa Valley's most historic and majestic properties. It's also one of the world's most unique ...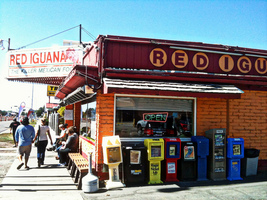 Red Iguana Taco
United States,
Utah,
Salt Lake City
Ramon and Maria Cardenas started in the restaurant business over forty years ago. Ramon was born in San Luis Potosi. Maria, born in Chihuahua, Mexico, passed away in 2002. ...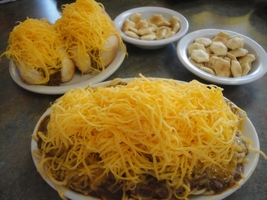 Skyline Chili
United States,
Ohio,
Cincinnati
Cincinnati-style chili is a sauce usually used over spaghetti or hot dogs, containing a unique spice blend that gives it a very distinct taste. Officially, the recipe for Skyline ...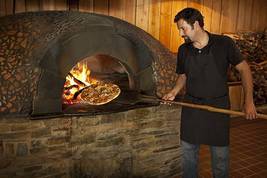 Full Of Life Flatbread
United States,
California,
Los Alamos
Located on the Central Coast of California surrounded by organic and sustainable farmers, ranchers, wine and food artisans Full of Life Flatbread produce a line of award winning frozen ...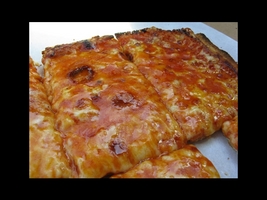 Barone's Famous Italian Restaurant
United States,
California,
Valley Glen
Founded in 1945, serving southern California's first rectangular, Neopolitan style pizza. Not many places can put claim the word "Famous", but Barone's truely can. There is such a loyal ...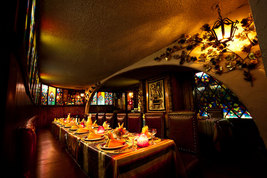 Gardens Of Tasco
United States,
California,
West Hollywood
Since 1971, the Gardens of Taxco has built its reputation on consistently providing the best Mexico-City style cuisine in Los Angeles. The unique five course dining experience begins when ...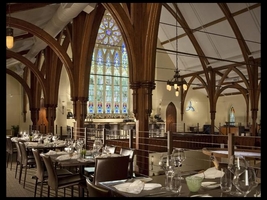 Restaurant Grace
United States,
Maine,
Portland
A restaurant that is no ordinary church. Grace exists within a renovated Methodist Church, Circa 1856 that was built before the civil war. Patrons dine where you would expect ...