The Church Brew Works
United States, PA , Pittsburgh
Web: http://www.churchbrew.com/
Email: cbw1996@comcast.net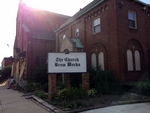 On June 1, 1902 the cornerstone of St. John the Baptist Church on Liberty Avenue was laid. On the 6th of August in 1993, the church was put under an act of suppression by the Bishop of Pittsburgh. The building lay dormant until the construction began in early 1996. It was almost three years to the day when The Church Brew Works reopened the doors of St. John.
The bar has been built from the oak planks salvaged from the shortening of the pews. The reddish orange hue of the flooring comes from the original Douglas Fir floors. These floors were uncovered and meticulously restored after lying dormant under plywood for 50 years. The original eight lanterns in the center bay Are original. The most breathtaking element is the position of the brew house on the Apse. Because the altar was built as a centerpiece of the church, the steel and copper tanks gleaming in the celestial blue backdrop is nothing less than captivating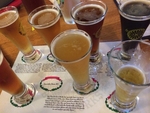 The signature beers are North German Style Pilsner, Bavarian Dunkel, British Special Bitter and rotating Blast Furnace Stout. All hand crafted. These "brews" are sure to please your palate as much as their unique cuisine. The food selections draw on the culinary styles discovered throughout the country by Chef Jason Marrone. He created a menu as diverse as Pittsburgh itself. And just like the city, there is sure to be something for everyone.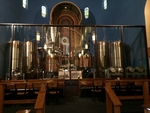 In 1902, there was a copper time capsule placed in the cornerstone. It contains a history of the church, the church record and copies of pertinent articles from local publications. That time capsule is still intact today marks the passing of time for not only the parish, but also Lawrenceville, Pittsburgh and United States as well.


Read the full history of St. John the Baptist Church on Liberty Avenue.