Indian Fry Bread
United States, New Mexico, Laguna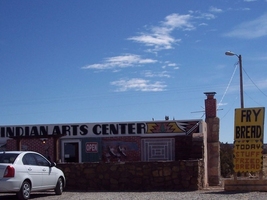 There sits a shack in the desert that most people who blink while driving will miss. It isn't until they get a quick glimpse of the brightly colored shack and assume it is just another tourist trap selling tourist type merchandise, do they continue on.
For those hungry or looking to stretch their legs 47 miles west of Alburquerque, New Mexico along historic Route 66, now known as Interstate 40 near Exit 114 they see a sign that reads "Fry Bread". They will be welcomed to a treasure of goodness. This little food shack is connected to the Indian Arts Center.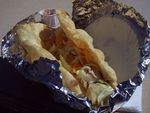 The moment someone steps out of a car to stretch, they are hit with the scent of something wonderful and ask, "OMG, that smells good, what can it be?" The answer, Indian fry bread. There various topping to choose from cinnamon sugar is a local favorite or have stuffed with meat, tomato, and lettuce.
While the order is being prepared, do go into the connected Indian Arts Center. They are selling local authentic Indian crafts. Some of the Dreamcatchers are like nothing you have ever seen anywhere else.
Next time you driving past a shack in the middle of the desert, you may be surprised what you will find if you ever decide to stop.
Contact Info - Indian Fry Bread
Address: Exit 114, Laguna, New Mexico, United States
Phone: (505) 552-0048

Google Map