Hilmar Cheese Company
United States, California, Hilmar
Web: http://www.hilmarcheese.com
Email: info@hilmarcheese.com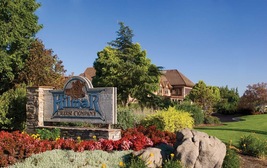 In 1984, twelve Central California dairy families, seeking to maximize the value of their Jersey cows' high solids milk, created the Hilmar Cheese Company. They have a free California Visitor Center tour with free samples and delicious food - cafe, espresso, ice cream and gift shop. Open 7 days a week (closed some holidays).
Learn how cheese is made. Tour our Visitor Center in Hilmar, California (4 miles off Highway 99 in Turlock), and explore interactive, hands-on exhibits about cows, dairies and cheesemaking. Watch Daisy's moooovie. See employees package the "big cheese" - 640-pound crates of cheese.



Create (and eat) your own ice cream. Take the tour followed by the ice cream activity. Join the fun as you "shake, rattle and roll" to create your own homemade individual frozen dairy dessert. Fun for all ages, especially those "young at heart."
With free samples of various cheeses, make sure to try the "Squeaker" cheese. It will literally make your mouth squeak as you chew on this unique cheese.