Apple Scrapple Festival
United States, Delaware, Bridgeville / October
Web: http://www.applescrapple.com/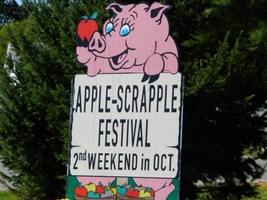 Held in the small town of Bridgeville on the second weekend in October. Now, what theme would best represent Sussex County and in particular, Bridgeville? Apples and scrapple!! Some of the best apples around are grown nearby and since agriculture is a leading industry in the area. It's hard to drive through Bridgeville during the summer and NOT notice the distinctive smell of scrapple being processed. It has been getting processed by RAPA Scrapple since 1926.
"Apple Scrapple" has grown from 2500 visitors in 1992 to over 25,000 now. It has become a major fundraiser for local community organizations and helps elevate awareness of the agricultural profession in lower Delaware.
Festivities begin at 4:00 pm on Friday evening with the carnival, food court and street dance. Things start up again on Saturday morning with an "all you can eat" scrapple breakfast from 7:00 to 11:00 am. The rest of the day is filled with carnival rides, kids' games, scrapple chunkin', scrapple carving, live entertainment, car show, tractor pull, trade show, two craft shows and any kind of food that you can imagine including apple fritters, scrapple sandwiches, oyster sandwiches, hamburgers and hotdogs, barbecue beef sandwiches, ice cream and much more.
There is something for all ages and all appetites at this exciting event, which begins at 4:00 pm on Friday afternoon and runs until the street dance is over on Saturday evening.