Grotta Di Bossea
Italy, Cuneo, Bossea
Web: http://www.grottadibossea.com
Email: info@grottadibossea.com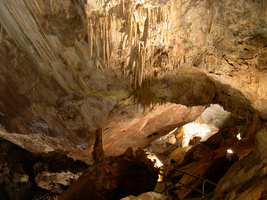 The Bossea cave is a large cave system in the municipality of the province of Cuneo Frabosa Soprana, Italy. Very striking aspects characterize the cavity of the cave, creating spectacular effects of great aesthetic and environmental appeal. Imposing size, the dizzy heights, the sheer cliffs, vast ceilings carved with sharp corners, the cliffs, gorges, gigantic boulders precipitates from it. The Grotta di Bossea is a river cave and karst cave. The volume of water moving through the cave is incredible. The tour takes one through narrow passages and large open spaces until you get to La Cascata, the waterfall at the farthest reach of the cave you can visit.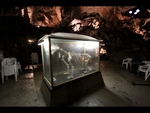 These rugged and steep morphologies are interspersed with a rich calcareous concretions, forming impressive huge heavy columns, stalagmites, stalactites, lace and drape the with great delicacy and preciousness.
Explored in 1850, illuminated and equipped for visitors, extends for more than 2 kilometers with an elevation of 200 m. An Ursus spelaeus (cave bear) skeleton is on display in the main gathering area in the cave called the Salone dell'Orso.
Note: The cave is open to the public. Waterproof jackets and shoes with rubber soles are recommended.