Arches National Park
United States, Utah, Moab
Web: http://www.nps.gov/arch/index.htm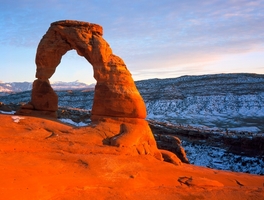 The forces of nature have acted in concert to create the landscape of Arches, which contains the greatest density of natural arches in the world. Throughout the park, rock layers reveal millions of years of deposition, erosion and other geologic events. These layers continue to shape life in Arches today, as their erosion influences elemental features like soil chemistry and where water flows when it rains.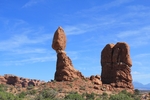 Arches National Park is located in a "high desert," with elevations ranging from 4,085 to 5,653 feet above sea level. The climate is one of very hot summers, cold winters and very little rainfall. Even on a daily basis, temperatures may fluctuate as much as 50 degrees.
The plants and animals in Arches have many adaptations that enable them to survive these conditions. Some species are found only in this area. The diversity of organisms reflects the variety of available habitat, which includes lush riparian areas, ephemeral pools, dry arroyos, mixed grasslands and large expanses of bare rock.
Over 2,000 natural sandstone arches, like the world-famous Delicate Arch, as well as many other unusual rock formations. In some areas, the forces of nature have exposed millions of years of geologic history. The extraordinary features of the park create a landscape of contrasting colors, landforms and textures that is unlike any other in the world.
Rangers present 45 minute evening programs at the Devils Garden Campground Amphitheater most evenings after sundown. Topics change nighly; check at the Visitor Center for topic and start time. Ranger-guided hikes through the Fiery Furnace are offered daily during the busy season. Tickets must be obtained in advance. The walk lasts about three hours and is considered to be moderately strenuous and somewhat challenging.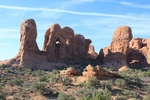 The temperate (and most popular) seasons are spring (April through May) and fall (mid-September through October), when daytime highs average 60 to 80 F and lows average 30 to 50 F. Summer temperatures often exceed 100 F, making strenuous exercise difficult. Late summer monsoon season brings violent storm cells which often cause flash floods. Winters are cold, with highs averaging 30 to 50 F, and lows averaging 0 to 20 F. Though large snowfalls are uncommon (except in nearby mountains), even small amounts of snow or ice can make local trails and roads impassable.
Visit the Park's website for traffic and travel tips