Warwick Castle
United Kingdom, Warwickshire, Warwick
Web: http://www.warwick-castle.com
Email: guest.feedback@warwick-castle.com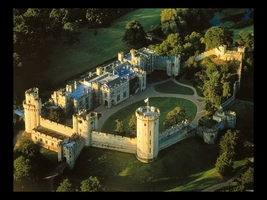 A medieval castle in Warwick, the county town of Warwickshire, England. It sits on a bend on the River Avon. The river and cliff form natural defenses. The castle was built by William the Conqueror in 1068 within or adjacent to the Anglo-Saxon burh of Warwick. It was used as a fortification until the early 17th century, when Sir Fulke Greville converted it to a country house. It was owned by the Greville family, who became earls of Warwick in 1759, until 1978.
Formal gardens belonging to Warwick Castle were first recorded in 1534. Landscaping in the 17th century added spiral paths to the castle motte during Fulke Greville's programme of restoration. Francis Greville commissioned Lancelot Brown to relandscape the castle grounds; he began working on the grounds and park in 1749 and had completed his work by 1757.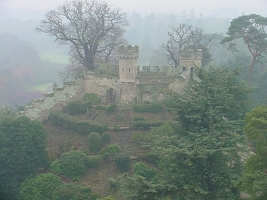 The gardens cover 2.8 square kilometres (690 acres). Started in 1743 and originally known as Temple Park, Castle Park is located to the south of the castle. Its original name derived from the Knights Templar, who used to own a manor in Warwick.
A water-powered mill in the castle grounds was probably built under Henry de Beaumont, 1st Earl of Warwick. By 1644, an engine house had been added to the mill. The mill was reused as an electricity generating plant after it had stopped being used to grind, but once Warwick Castle was fitted with mains electricity in 1940, the mill was no longer required and was dismantled in 1954. Adjacent to the mill is The Mill Garden which is privately owned but open to the public.
In June 2005, Warwick Castle became home to one of the world's largest working siege engines. The trebuchet is 18 metres (59 ft) tall, made from over 300 pieces of oak and weighs 22 tonnes (24 short tons). The machine, which was made in Wiltshire, takes eight men half an hour to load and release. It is designed to be capable of hurling projectiles distances of up to 300 metres (980 ft) and as high as 25 metres (82 ft) and can throw up to 150 kilograms (330 lb) of ammunition at a time. On 21 August 2006, the trebuchet claimed the record as the most powerful catapult of its type when it sent a projectile weighing 13 kilograms (29 lb) a distance of 249 metres (817 ft) at a speed of 260 kilometres per hour (160 mph), beating the previous record held by a machine in Denmark.
Video