Arriving At The Hotel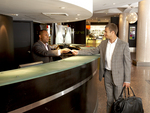 Don't think that just because you have arrived at a hotel, you should just check-in and go your merry way to your room. That can be the difference between a view of an ugly rooftop or a view of the ocean. Those at the front desk have a lot of power that can exceed your expectations at the hotel.
Front Desk Clerk: Watch how the clerks are working with other guests and play off their personalities they convey to the other guests. If you have a choice, try to pick someone that looks to be in a good mood, experienced and can make changes without authorization. Someone that may be a "Romantic" (if you are with someone so you can let them know you just want to wine, dine, and pamper your significant other). Look for someone you may be able to have a good rapport with throughout your stay.
Read their name tag:If they have a name tag, refer to the person by name. Get personal right from the start, if things turn sour for any reason, it may help to make them feel guilty that their policies bound them, but might want to help you in other ways. Say, "Hi Jenny!" and be happy that you are there.
Make Conversation: While they are collecting your information and checking the computer, let them know you've been in email contact with [hotel worker name], you are excited about the your stay, and you are hoping they followed through with your requests (reiterate the any requests you made). If you have a rewards card, pull it out, tell them if you are a repeat and how their hotel brand is the best and looking forward to the stay!(a little BS goes a long ways)
Ask For Upgrades: Before they get too deep into locking in the room, tell them how special the stay with them is, and ask if there are any upgrades available. If they can't fill rooms and they like you, they may bump you up a level for free. Telling them this is a special time for you and the person you are with usually hits a soft spot in the clerk. If they aren't talking about a free upgrade, ask how much more. Sometimes it will be a reduced rate.
Getting The Best Price: If you feel or read online that they have had better rates in the past, ask if the price you are paying is the best price they can give you. Sometimes there are cancellations on other rooms, or they just have room to negotiate if someone asks.
Make Sure You Get What You Reserved: Double check that everything is correct. If not you have 3 options: Settle for what they gave you, negotiate a compromise, or stand your ground. If something goes wrong at check-in remember ask for a manager and DO NOT MOVE until you are satisfied. The other guests behind you are not your problem, it is the hotel's problem. If they get restless, the hotel will want to resolve your issue quicker. (See Tip: Dealing With Issues).
See The Room: If you have any concerns about the rooms before you check-in ask to see the rooms. If it is a slow at check-in sometimes the clerk may offer 2 different rooms and ask to see both. Especially if you are there for 3-4 nights, and plan to want to get comfortable. Pick the one you like most.