Harrison Hot Springs
Canada, British Columbia, Harrison Hot Springs
Web: http://www.harrisonhotsprings.ca/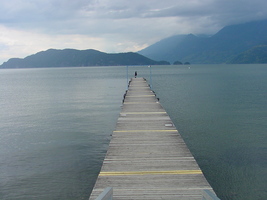 The Village of Harrison Hot Springs is located in the beautiful Fraser Valley with its glacier fed lake, surrounded by mountains and clean fresh air, it offers a unique place to visit or live and enjoy the many recreational activities available. It is a resort community known for its hot springs, and has a population of just over 1500 people.
Off season in the winter and spring months is a quiet place to get away from the fast past Vancouver lifestyle for some peace and quiet. Harrison Hot Springs is a very popular vacation spot during summer months. Harrison Hot Springs' greatest attraction is its titular springs, of course, but it also has the Ranger Station Public Art Gallery, a marina with jet boat tours of the lake available, a nine hole golf course, and is the closest access to Sasquatch Provincial Park.
Known for its leisurely days and friendly ways, Harrison Hot Springs has alot to offer in the way of nature, art, entertainment, shopping and food.
Kick your sandals off and sunbathe on the sandy beaches of Harrison Lake, the largest body of freshwater in Southwestern BC. Embark on an interpretative boat tour. Take in art and music at a local gallery. Go back in time through a CP railway station built in the 1800's. Curl up with a good book at one of several charming cafes. Boat, fish, golf, hike, cycle or just put your feet up and relax in a natural BC hot springs pool.